Back again for another product swap. This time, I am reviewing a product from the lovely Sally over @ Elementary Matters.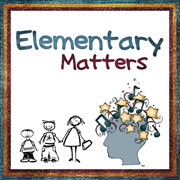 After perusing her store (of which there are a variety of delightful options I may add), I finally decided upon her "Par 3- Short Vowel Sounds" game. I thought this would be useful as we review these sounds at the beginning of this school year. I must say I am glad I got it all printed out and ready to go as I am going to be using it in one of my small groups this coming week! So here goes:
The Overview...
And now the breakdown...
Above is the game instruction sheet. I love that it requires very little preparation or materials (which makes it more likely at least for me that I will use it!). All you need are the game boards, which she has so nicely already created for you, dice, and any old item you like to use for your students to cover their words (if you already have Bingo chips in your classroom these would work great!).
The game comes with nine different gameboards filled with a variety of short vowel words. As you can see, I only printed 6 because I knew I would have a group no larger than this. You could print the others as well for variety if you would like or if you were working with a larger group!
So now let's play...it's super simple! Each student will roll the die. From here, they will use the instructional page to determine what short vowel sound the number on the die represents. For example, my imaginary student rolled a "3", which corresponds with the short "I" on the sheet. Therefore, he/she must search for a word on the game board which contains this vowel sound and put the piece there, as is shown in the photo.
This process will continue until one student has successfully covered three words in a row...
in which they will then call out "Par 3" and be the winner of that game round. Students should catch on quite quickly in my eyes as it is a sporty rendition of Bingo (that I think all of the boys in your room will love!).
So there you have it. If you are interested, head on over to Sally's store, by clicking
here
to snag a copy of your own! It is even on sale right now for only $1.60 until Monday!
Also, if you love this sporty themed take on the traditional Bingo, I encourage you to check out the rest of her store, as she has a variety of other sports themed Bingo games to reinforce important math and literacy concepts.
Finally, as this is a swap, my new friend Sally also reviewed one of my products over at her blog. Check out the review she did on "My Spelling Reference Book"
here
.
Finally, in honor of all of this magical swapping fun, I will be hosting a sale until Monday in my TpT store for you all to maybe go and grab a copy of the reference book if it looks like it is up your alley or any of my other products you have been eyeing! If you make a purchase, I would really appreciate and value your feedback! Happy long weekend :)!