For those that may not know what this is, let me give you a brief low down. The lovely Mrs. Jessica Stanford came up with with this super idea a little while back to have 2 bloggers swap one product from each of their TpT stores, create and review the product, and then write a post to rave all about it to others! She put a lot of time and energy into organizing all of this, and we appreciate it. I am excited to see all of the product reviews, and even more excited to share my review with you!
For this swapping adventure, I was partnered up with the fabulous Corinna Gandara from
Surfin Through Second
.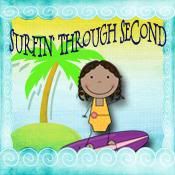 And I had the opportunity to check out her "Differentiated Spelling Lists" packet pictured here.
Note: If after I sell you all on this product you are interested in snagging a copy yourself, just click on this image and it will take you straight to her TpT store to buy it!
Corinna's packet includes 34 weeks worth of differentiated spelling lists as well as several different holiday themed word lists for those special times of the year! Each lesson for the week then includes two different lists- a basic word list and an enrichment list for students who need more of a challenge. Corinna shares in her packet instructions that at the beginning of each week, she gives her students a pre-test using the basic list for the week. If a student scores more than 90% on the pretest, then they are given the enrichment list instead to practice the weeks word work, if not, they are given the basic list to continue to study throughout the week.
Here is an example of two different lists for a lesson on "Long a- 'ay'".
Here is also an example of one of the Holiday spelling lists included in the packet. Take a stab at which Holiday it is ;)!
Obviously, these lists and word work will be studied in class, but Corinna suggests in her packet ways in which the students can practice at home as well. Each of her students uses a composition book and each week they glue their new list in their notebook. Then at home they complete a variety of activities using their list such as writing their words three times, in sentences, etc.
She also includes a list of enrichment activities which the students could complete for further practice. I won't give them all away...but my favorites include "translate your words in another language" and "illustrate the word" (maybe its the dual language teacher in me ;)).
One of the main reasons Corinna shares in her packet for creating these differentiated lists, is because she has students with such a variety of needs, including a large group of ELLs, and the regular spelling curriculum did not seem to be meeting their needs on its own. Oh how I can relate! (..and maybe you can too). I would definitely recommend this packet as Corinna has clearly put great thought into trying to meet the needs of all learners, and her lists cover a variety of spelling concepts that are covered throughout the grade levels.
Thank you for sharing your product with me Corinna- I look forward to utilizing it with my kiddos this school year. I encourage you all to check it out as well! Remember you can click on the TpT spread above to head to her store!